September 12, 2006
I need you to listen to me. I am serious about this. It is a big freaking deal to me. I need you not only to hear the words but truly listen. Do not interject what you think I am saying. Do not always assume there is some personal attack aimed directly at you. Chances are they are not. That is until I realize you are not listening and you are assuming. It is not just that you can hear the English language, but that you process what I am saying. Stop before you get defensive. Stop and think. Am I really attacking you? Would I really be saying that? Or even better, did I just say the same thing and you were too busy taking offense and running defense to even hear it? You need to listen, you need to think and you need to pause. It is the sign of a patient person. It will also make the whole ordeal easier. Do not assume I am attacking you and it will no longer feel like I am attacking you. It will no longer turn a conversation into an argument. It will no longer make me feel like I am constantly being opposed. I need you to listen to this, to me.
Labels: Mr. Magoo
link
| posted by anne at 1:25 PM

0 Comments:
This is one girls tangy sweet take on live and her loves - food, family, friends, photography anything goes, afterall it is her world.
Ask a Question:

More About Me: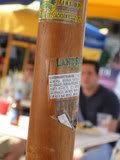 P.S./Photo Sunday
**5.27.07**