October 10, 2006
Recipe for danger. Me alone, a bottle of shiraz, a left over bag of Nestle chocolate chunks and the Gilmore Girls. Followed by a double episode of SATC. If there is time, viewing of the recorded episode of Iron Chef America. The treadmill? Ha. About that, packing and prepping for this weekend.....Psah. Those are for people without wine and chocolate. Will tell Magoo there was a great national emergency. Yes, yes..... I couldn't get to Target. Tres believable.

Definitely time for one more glass and Iron Chef, after I walk Ginger. And I'm off.....
Labels: Everyday Life
link
| posted by anne at 6:06 PM

0 Comments:
This is one girls tangy sweet take on live and her loves - food, family, friends, photography anything goes, afterall it is her world.
Ask a Question:

More About Me: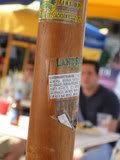 P.S./Photo Sunday
**5.27.07**