September 14, 2006
I just want to revel in my own grumpiness. I am grumpy and I need to sit in my own grumpy stew. I need to get to that perfect grumpy point. Otherwise, it is not a good grumpy and it may need to last longer or be repeated later. Isn't it better to just let it be now, who wants it repeated later?
Labels: Mr. Magoo
link
| posted by anne at 7:57 AM

0 Comments:
This is one girls tangy sweet take on live and her loves - food, family, friends, photography anything goes, afterall it is her world.
Ask a Question:

More About Me: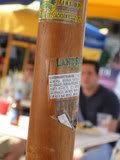 P.S./Photo Sunday
**5.27.07**