December 23, 2006
During our brief holiday we stopped into Holiday. I have not been that slap happy in a movie for a long time. It is just wonderful sitting in the confines of the theater, relaxed, with a ridiculous movie plot and a happy ending. The Breakup wasn't funny because, well, there is nothing funny about breaking up. It could have been the two glasses of Pinot Grigio at lunch that added to the awe. But the Christmas music and the sappy love story had me in smiles. Warm comfy smiles that make me want to buckle in for a long evening of movie watching. Underneath a blanket with the fan on high (remember it is still 80). All cozy and half asleep, hearing the rain on the window and letting the buzz wear off. And that is when I come home to my parents house to find The Sound of Music playing in the background. Bingo. Nothing better then a rendition of These are a Few of My Favorite Things. Has me humming along, smiling sweetly and ready for couch time and an early bed time.

Aside from the Holiday today was nothing close. Ginger vomited times three. A flood in the guest room and a broken cell phone. How un-happy and non-holiday. No one wants to deal with any of those on a Saturday during the holidays. No one wants to deal with those, ever. I want to crawl under the sheets and whine. Except that it smells like puke and you know that the day has begun all around you. So much for a happy holiday. Suddenly I am the Grinch and someone stole my Christmas. The scrooge was here too. None were welcome and hopefully both are long gone.

As the weekend is a long one, so is the time to recover. That is how we holiday-ed. There are more movies to come. More wine to be drunk. Another round of baking. To add sweet and yummy to our holiday plans. Definitely more sleep. The festivities have lasted since the first of the month and have a full week's worth of party left in them. I plan to drive by the lighted displays of the fabulous houses. We will hit the theaters again on Monday with the Jews, and others escaping their homes. There are invitations to Christmas day treats. And lest we forget the glow of the New Year. Many more occasions to be happy. There is a lot more holiday left. A happy and healthy to all.
Labels: Friends/Family
link
| posted by anne at 6:40 PM

3 Comments:
brookem said:

I saw the Holiday a couple weeks ago. I cried pretty much through the whole thing, is that weird?




---

Ashish Mohta said:

Your blogline is Really Touchy .Hope you have a great christmas!!




---

e.b. said:

I teared up a bunch of times - it was just fun though.

Hope all had a nice holiday.




---
This is one girls tangy sweet take on live and her loves - food, family, friends, photography anything goes, afterall it is her world.
Ask a Question:

More About Me: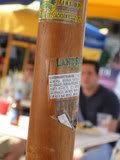 P.S./Photo Sunday
**5.27.07**