December 14, 2006
"Are they getting married?"

"Well, she is carrying a bouquet."

"Yes but she is wearing a jean jacket. And he is in shorts. And flip flops."

"But see, she has a white sun dress underneath the jacket. And he has a red rose boutonniere. And look there is a photographer"

"That is not a photographer, that is her mother."

"Well your mother would come to your wedding, right?"

"But in the middle of the mall? She has to be pregnant."

"You are mean"

"And....?"
Labels: Everyday Life
link
| posted by anne at 10:37 AM

4 Comments:
How do you send invitations to a wedding at the mall? Do you reference the location as like "Right in front of Orange Julius"?




---

This one so happened to be next to the Christmas Tree. Timely and easy to find.




---

Hmm...while I'm a fan of low-key weddings & not going overboard, denim and the mecca of consumerism isn't what I imagine. I'd prefer a judge's chambers if I had to choose.

As for you being mean, whatever--I think you were probably right.




---

lol!




---
This is one girls tangy sweet take on live and her loves - food, family, friends, photography anything goes, afterall it is her world.
Ask a Question:

More About Me: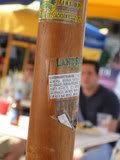 P.S./Photo Sunday
**5.27.07**