February 15, 2007
They way you held onto my leg tight when we broke.

The way you pretended it was you who had to go to bathroom to save me the embarrassment.

The way you said you were learning.

The way you call me your everything.

The way you turn around, wink and mime I love yous.

The way you call me gorgeous porgeous.

The way it was too much, 45 was too much.

The way you Google better ways to give foot massages.

The way you tell me I am the love of your life.

The way you so patiently deal with me, my moods, my anxiety, my smell, my everything. Because you, you are my everything.
Labels: Mr. Magoo
link
| posted by anne at 2:03 PM

3 Comments:
Accidentally Me said:

That's really sweet:-) I don't get the first one, though...




---

brookem said:

:)




---

magnetbabe said:

"gorgeous porgeous"
I love it!




---
This is one girls tangy sweet take on live and her loves - food, family, friends, photography anything goes, afterall it is her world.
Ask a Question:

More About Me: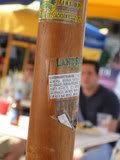 P.S./Photo Sunday
**5.27.07**