June 08, 2007
I am looking for someone, who can take as much as I give,
Give back as much as I need,
And still have the will to live.

I am intense,
I am in need,
I am in pain,
I am in love.

I feel forsaken, like the things I gave away.

(c) Indigo Girls (1989).
link
| posted by anne at 8:50 AM

5 Comments:
I hope you aren't expecting old Tommy to reply with anything but a dirty limmerick.




---

Indigo Girls have some great stuff...




---

are you going to see them again???




---

No, sadly, but they are on repeat in my car these days and the lyrcis, always poignant, hit home today.




---

Quite literally that was just on my iPod! Ooky.




---
This is one girls tangy sweet take on live and her loves - food, family, friends, photography anything goes, afterall it is her world.
Ask a Question:

More About Me: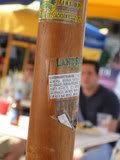 P.S./Photo Sunday
**5.27.07**