June 10, 2007
For a few Saturdays in May I took a photo class at a local museum. I was served up with some serious photo envy of people's expensive cameras and their ability to take some excellent shots. Not all but some - and that to me was the greatest lesson - seeing other's eyes. You can learn so much from that - in addition to the technical lessons the instructor instilled. Some of which I am not quite sure of and some of which I am still practicing.

The photos I submitted were of downtown scenes you would not expect to see downtown. A home like feel to the space and place I called home - something I felt having worked down there for a few years. It really is a quaint little downtown, we don't even have a Starbucks, but I feel like this especially captures that as you don't really see a high rise structure. Though I have to say my classmates who submitted those were awe inspiring as they made the mundane buildings look beautiful and made Tampa look quite glamorous. To me that is what has been so much fun about photography - the varying ideas, angles, and images and what is conveyed through the lenses. It is educational and inspirational and completely fun - my new camera arrives on Monday so let the games continue.


Labels: P.S./Photography Sunday
link
| posted by anne at 8:23 AM

7 Comments:
you do a great job! love them.




---

Lovely lovely lovely! I miss my camera so much! :(




---

You have a great eye for choosing your angles and composing your photographs! I can't wait to see more!

P.S And thanks for the words of encouragement!




---

Great photos! My favourite is the park bench. I'm still working on channelling my Annie Lebowitz...




---

Very nice!




---

great shots! What kind of camera will you be getting?




---

I always feel inspired to buy a camera when I see someone else's photographic accomplishments. And then I remember how much I sucked at framing a shot.




---
This is one girls tangy sweet take on live and her loves - food, family, friends, photography anything goes, afterall it is her world.
Ask a Question:

More About Me: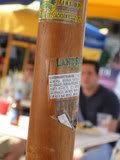 P.S./Photo Sunday
**5.27.07**