October 12, 2006
1. Pack Ginger's food, cookies and bed to take to Fuzzie Buddies.
2. Pack remaining clothes and toiletries. Remove my running shoes.
3. Pack my healthy and lackluster lunch for today.
4. Grab last minute crap - my book, cell phone charger and the wedding present - with the card.
5. Make 3 trips to the car with items 1-4. Finally bring dry cleaning in from the car.
6. Use the treadmill for 25 minutes
7. Bring my running shoes back to the car.
Note - it is not yet 8 am
8. Get to work, sans Starbucks, to finish medical records and mediation status report.
9. Lose my head uncontrollably at Magoo for making an irrational comment about leaving town during rush hour traffic when are ETD is 2 pm. His brain may be mush right now. Unsure, will check that out on our seven hour drive.
10. Eat my unsatisfying lunch and have deep remorseful thoughts about inhaling a pizza.
11. Meet with senior partner to discuss my work progress and the status of people who are not working, ie) the plaintiffs.
Second Note - it is just now a quarter after 11
12. Try to breathe freely without my head exploding.
13. Finish reviewing the prior attorney records.
14. Try to eat some oatmeal in hopes it will satisfy my urge for pizza. Clearly not the case.
15. Drop Ginger off. Mope a little, it is kind of sad to leave her.
16. Add my name to the insurance records.
17. Get the hell out of dodge. We don't want to get stuck in that 2 pm traffic, do we?

I will get through this. Magoo and I will both arrive safely. I will not slaughter him with my plastic fork or drop him on the side of I-10 while going 75 mph. That is not on my to-do today list......yet.
Labels: Everyday Life, Listing
link
| posted by anne at 8:07 AM

1 Comments:
anise said:

EB- love your blog. I found you after you commented on mine (this too shall pass). funny that you too are an Aries - we seem to have a lot in common! Here's something else; when I graduated from college I was all set to go to law school (Indiana University), had been accepted, the whole deal. Then I had a panic attack, deferred a year, and never went. My father (an attorney) told me I made the right choice - but truth be told, I've always wondered what might have been. It will be fun to read your blog and see what I might have missed - keep writing!




---
This is one girls tangy sweet take on live and her loves - food, family, friends, photography anything goes, afterall it is her world.
Ask a Question:

More About Me: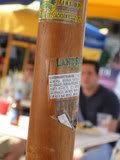 P.S./Photo Sunday
**5.27.07**