December 29, 2006
Happy New Year.
I am heading to the Crescent City for food, memories, shopping and general end of the year gluttony. Pictures to follow - using the sparkling new camera given to me this holiday season.
May 2007 bring peace, love, and happiness to you and yours.
Labels: Everyday Life
link
| posted by anne at 7:36 AM

4 Comments:
Have a great weekend! Happy New Year:)




---

I look forward to pics! Happy New Year!




---

Happy New Year!
I looove your new template...




---

Happy New Year!




---
This is one girls tangy sweet take on live and her loves - food, family, friends, photography anything goes, afterall it is her world.
Ask a Question:

More About Me: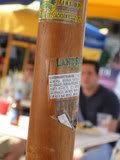 P.S./Photo Sunday
**5.27.07**