December 27, 2006
I really disliked the red head from the first season of Top Chef. Tiffany.
"The assignment said to impress us"
"Did I not?"

I feel like things should be in order and taken care. I need to go in for a deep teeth cleaning, which I have not scheduled. I need some gum work. I need to pay some bills. I would just like to, but don't need really, a mani/pedi and a facial. Well I think I need the facial, my skin looks like a volcano. I can't even think of all the other things that nag when I attempt to sleep. I have a constant feeling of unraveling, until I push these to-do's out of my mind and continue to meander aimlessly. Addressing none of them. This summer I was all over those must do items. It felt great. Until it was tiring. It really was not worth it. Things will get done. In due time. Really who am I impressing?

I really need to take an affirmative action. This thought hit me at the gym; truly ironic. There are so many options out there, none of which I have ever exercised. Literally. I use to have motivation and self-restraint. Oh and time. A powerful combination. I apparently no longer have any of these things. I blame my job. But that is too easy. I blame it for a lot of things. So I need to be proactive and pay some one to help me. The knowledge that money is spent should help. Note the should, because I no longer know myself. At least when it comes to eating and exercising. Since there ain't nothing impressive about my thighs.

I am completely underwhelmed with my performance this month. Yeah, yeah, yeah it was the holidays. I also billed the shit out of it in November, leaving me ex-hausted come December 1. Taking a personal day there too. Puts me eight hours behind from the gate. But that is no way to wrap up the year. Not with a review right around the 2007 corner. I pray the holiday slump can be overlooked and that comparison wise I can shine. Some sort of luster-less shine, but a sheen nonetheless. A shine enough to impress for now.
Labels: Breathing
link
| posted by anne at 11:37 PM

4 Comments:
I know what you mean about little things...I feel like I have about 40 buttons to re-sew...I will get to it any day now.




---

I think part of it is that time of year- I tend to look back and think of all the things I still want to do- even the small things, like a mani/pedi- which I'm making an appt. for tomorrow!




---

Billing sucks.

And I feel like even if I had a few days off, I'd just want to rest and wouldn't accomplish any of my "to-do" list (like figuring out why my health care insurance won't pay any claims). Perhaps once the holidays pass, we'll find a little more time for all of this "stuff."




---

AM: I am duly impressed. I never save the extra buttons and I never sew.

Brookem: Super jealous, while I do get to vacation - I have not found time for my nails.

Ally: Um billing couldn't suck any more. Really. Well maybe health insurance companies suck more...




---
This is one girls tangy sweet take on live and her loves - food, family, friends, photography anything goes, afterall it is her world.
Ask a Question:

More About Me: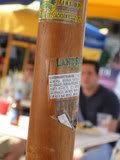 P.S./Photo Sunday
**5.27.07**