January 02, 2007
We are back from New Orleans - full and tired. Ready to diet after our personal Mardi Gras. Tons of fun and food in our systems prepared for a clean slate for the New Year. Yeah, yeah, yeah we all make these promises. But we went out with a bang and
need
to be good now. Stories, tales and goodness to follow (I have a ton of work to catch up on).
To see a full collection of these pictures go to
flickr
.
Labels: Trips/Travel
link
| posted by anne at 7:59 AM

2 Comments:
brookem said:

Happy New Year! I love your pictures:)




---

justrun said:

Looks like a fun, yummy time!




---
This is one girls tangy sweet take on live and her loves - food, family, friends, photography anything goes, afterall it is her world.
Ask a Question:

More About Me: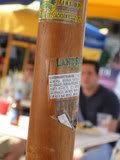 P.S./Photo Sunday
**5.27.07**