February 24, 2007
Saturday mornings are spent alone, usually. I get the time to myself, with my treadmill, laptop and DVR. I clean, read, write. There is usually a brunch date. We have a standing one, at some point during the weekend there will be eggs. She and I have done it for years now. Through break ups, singledom and boyfriends. Post and pre workout. Nursing hangovers and relaying events of the nights before. But this Saturday the weather was too nice and I was feeling friendly. So I ventured to the site of Magoo's weekly basketball game. And you know how I feel about basketball. But it was not about playing, at least not with a ball. For me it was about soaking up the sun and taking pictures. Fun enough for me. I had a blast. But that had nothing to do with the round orange ball or the five sweaty guys. The park was full of families, sights and sounds. An art festival around the corner. A birthday party at a picnic table. Swings, see-saws, and sunshine. A glorious Tampa morning. It was a welcome reprieve from my usual. Enjoy my time here.

Labels: Everyday Life
link
| posted by anne at 10:09 AM

6 Comments:
Love the pictures. It looks so WARM there you lucky stiff!




---

SOunds like great way to spend a Saturday morning.
And I, too, am jealous of the warm weather.




---

Looks fun, and yes--much warmer than NYC!




---

It was deliciously warm and wonderful. We spent nearly all of daylight outside. Yummy.




---

Mmm, sweaty guys..




---

I agree this last weekend was 1,000,000% better than last weekend weather wise. That's good ole' FL for ya. One weekend it's 28 degrees the next its 74.




---
This is one girls tangy sweet take on live and her loves - food, family, friends, photography anything goes, afterall it is her world.
Ask a Question:

More About Me: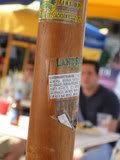 P.S./Photo Sunday
**5.27.07**