June 15, 2007
I didn't think it would come to this and I wasn't sure that I was ready - but a certain sequence of events led me here - or there...

www.ammanners.wordpress.com

Yes, that is correct - you can find me there as well. It has been quite a move - a lot of effort and a lot of thinking. I love my pink and my flamingo and the wonderful experience I have had here. It is just time. And hey I can always come back. But for now back sure y'all come with me (those readers and such) because I would certainly miss you!
link
| posted by anne at 6:22 PM

3 Comments:
brandy said:

Hooray!! I'm so excited right now!! (And after checking out your new site, I'm going to contemplate what it says about my life that people switching blogging sites gets me so excited I use two exclamation points!)




---

JustRun said:

Sweet!

Okay, you and I need to talk.




---

Princess Extraordinaire said:

Congrats on the move..I am coming right along with you!




---
This is one girls tangy sweet take on live and her loves - food, family, friends, photography anything goes, afterall it is her world.
Ask a Question:

More About Me: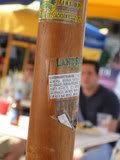 P.S./Photo Sunday
**5.27.07**