October 18, 2006
Shortly after the last post, I got this picture via text, from Magoo. He is BUSY at work. No I am serious he is. Now that makes the blahs be gone. It's not a bad representation of him to boot.
Labels: Mr. Magoo
link
| posted by anne at 1:03 PM

0 Comments:
This is one girls tangy sweet take on live and her loves - food, family, friends, photography anything goes, afterall it is her world.
Ask a Question:

More About Me: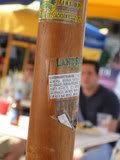 P.S./Photo Sunday
**5.27.07**