November 18, 2006
Today involves a van, a dolly, heavy lifting and probably some arguments. Friends and co-workers. There are couches, washing machines, beds and a dinner at the Palm. It will all be good. Very good.
Labels: Everyday Life
link
| posted by anne at 6:35 AM

0 Comments:
This is one girls tangy sweet take on live and her loves - food, family, friends, photography anything goes, afterall it is her world.
Ask a Question:

More About Me: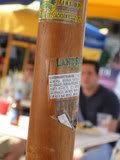 P.S./Photo Sunday
**5.27.07**