November 11, 2006
An excerpt from an e-mail sent to Carter in November 2003:

....essentially that is my life. For the next three weeks I will be consumed with exams. I wish there was more to report. When the only excitement in my life is that there are Christmas cups at Starbucks and that the carol I like to study at is open- email and communication becomes very boring. This happens at this time of the year. All that my mind can process are law school facts which the majority of people do not want to hear about (including myself). You know its bad when you hear Yellow Submarine on the radio while driving to school and your mind wanders and you begin to think about what kind of workers' compensation a guy would get if he died on the submarine.....

This past weeks' reaction to a trip to the 'bucks proved that, three years later, I am still excited by those damn red cups (they even have new cute red patterned coffee jackets. Double joy). Though these days it does not mean that I have to buckle down and study. Instead, it means the Christmas shopping is on. Oh yes, bring it.

Yeah and those workers are apparently still haunting me. Or was it prophetic? Was I destined for a life in work comp? Fortunately haven't had ones on a submarine or even a yellow submarine....but you never know.

I no longer get e-mails from Carter. No more "Hi Dears" or "Love Carter". No more phone calls at random times to explain why the "proof is in the pudding". He is now studying to become an Orthodox Rabbi, living in his arranged marriage, in Israel. It has been over a year since I have heard a peep. I guess some things do change....
Labels: Last Life
link
| posted by anne at 2:49 PM

2 Comments:
Buffy said:

I get excited over those red cups as well.

So much so, and this is no lie, that I've even thought about getting a job there during the season.

My brother thinks I'm insane...and he may well be right. One does not run up $100,000 in student loans just to work at The Bucks.

But I do love those Christmas cups.

And the benefits ain't bad either.




---

e.b. said:

It lends itself to my theory that they put crack in their coffee. It is so damn addictive and we crave those red cups. What gives?




---
This is one girls tangy sweet take on live and her loves - food, family, friends, photography anything goes, afterall it is her world.
Ask a Question:

More About Me: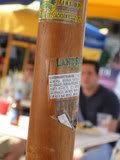 P.S./Photo Sunday
**5.27.07**