November 22, 2006
Credit where it is due: One Word

Basket:

to hell in a hand basket. I just love that expression. it generally captures the days mood, when s*it goes down. i pictue a pig tailed girl-y holding a hansel and gretel type basket. i guess the imagery of the wolf leads me to the hell-ish idea. yet it is never, never that good and there is no happy ending.
Labels: Practice
link
| posted by anne at 7:31 AM

0 Comments:
This is one girls tangy sweet take on live and her loves - food, family, friends, photography anything goes, afterall it is her world.
Ask a Question:

More About Me: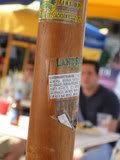 P.S./Photo Sunday
**5.27.07**