January 22, 2007
RE: Angelina Jolie - I am not the only one who thinks so.
Labels: Boasting
link
| posted by anne at 9:23 AM

5 Comments:
Right on.




---

Yeah, she annoyed me at the Globes. So ungracious and "above it all." If you're going to come to a red carpet, expect interviews. Um, duh.




---

I'm impressed with her humanitarian efforts but definitely not with the bitchy, condescending attitude last week (or her super super skinny appearance--of course almost everyone there looked sick to me).




---

Let's see what they have to say and do for New Orleans....




---

Ick. It was only a matter of time.




---
This is one girls tangy sweet take on live and her loves - food, family, friends, photography anything goes, afterall it is her world.
Ask a Question:

More About Me: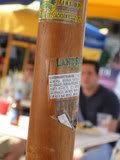 P.S./Photo Sunday
**5.27.07**