January 14, 2007
Because she inspired me. And, yes, she is inspiring in more than her ideas on photographs; she is a wonderful writer and an inspiration for physical fitness, to say the least. Though, instead of scenes from my windshield, you get scenes from the chaise lounge. If it is going to be over 80 degrees in January, you better believe the Floridans are going to take advantage of it. Jealous? Just wait until summer. As I read in the paper this morning, with this progression it will be 137 in June. Anyone wanna visit then? To see the rest of the pictures click here.
Labels: Everyday Life
link
| posted by anne at 2:04 PM

7 Comments:
After living (miserably) in Minnesota for 20+ years, I never thought I'd say: I LOVE WINTER!!!




---

Aww, a fan of the windshield posts, nice. You are too sweet. And so lucky to be in a lounge chair right now! To even have the option! I am jealous jealous jealous.




---

If it is going to be warm in the winter, I am going to take advantage of it. No use crying about it....I do have two words though - global warming.




---

beautiful pictures! where were you? was this last weekend?




---

Kinda jealous! But yeah, would rather suffer any winter than spend summer in FL. Still...grumble.




---

eb~ those pics are delightful!!! i'm sitting here in my fuzzy bath robe with the heater cranked, and i got a boat load of laundry to do. ya.... those pics are DELIGHTFUL!! hmm we gotta work somthing out and house swap girl! i live in cali on the coast!




---

That my friends was Tampa, about two miles from where I live, at a friend's pool. See how it is to live in Florida?!?!? Please remind of such when we have a hurricane and 97% humidity.




---
This is one girls tangy sweet take on live and her loves - food, family, friends, photography anything goes, afterall it is her world.
Ask a Question:

More About Me: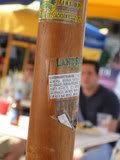 P.S./Photo Sunday
**5.27.07**