February 28, 2007
You know that feeling when we are waiting for someone we like to call. Hey, we do it with new friends and not just men. That pit in your stomach and the nervous anticipation every time the phone rings our your Yahoo says you have new mail. My heart literally skips a beat and fucks up my blood, so that for the next several moments I have to catch my breath. Could it be them? And will they respond positively to me, echoing the way you feel about them? It is a finely delicate place. You don't want to seem to eager, but you don't want to appear indifferent. A thin line between obsessed and impressed. Checking and rechecking. The verge of my emotion resting on a response one way or the other. A battlefield ready to spring into action. The whole watched pot idea floating around in my head. But that can't really work. After all, I have always believed that the pot does not boil because you were there to catch it. Watching it. The checking and rechecking is not going to prevent the response from coming and it is not going to make it a dreaded one. That much is out of my hands, beyond my control, and no amount of refreshes are going to change that. Like waiting for the bar exam results. By then my portion was done, but I was still nervous as hell to know the result. The fact that I am controless should make it easier, but it does not. Because it is all about the waiting. The longer I wait, the more the anticipation builds. And it freaking kills me. Because I want it so so very badly. And because I put myself out there. I took a risk. Taking the first chance and letting them know all about it. Exchanging the first glances of I love you's. I feel for something, someone and let them know it, even if it was in a refrained tone. But I took that leap and anytime that happens it is nerve racking. Heart racing. Vomit inducing. That person may not respond or respect that. Which creates a whole new layer of fear. While it may be a done deal by now, the fact that it was done in the first place creates the anxiety, the want, the pit in the stomach and the desire to glue my phone to my hand to insure I don't miss the call on its very first ring.
Labels: Breathing
link
| posted by anne at 7:07 AM

5 Comments:
Tom Petty was right, waiting IS the hardest part, isn't it?
:)




---

Oh good call on Petty. It is the waiting that KILLS me




---

oh i hate the knot in the stomach feeling. i think anticipation can play havoc on your skin.
(thats the esthetician in me talkin')




---

Ha! Is that why I have so much acne!?!?1




---

Oh God, I HATE waiting!




---
This is one girls tangy sweet take on live and her loves - food, family, friends, photography anything goes, afterall it is her world.
Ask a Question:

More About Me: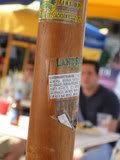 P.S./Photo Sunday
**5.27.07**