March 06, 2007
Anyone who knows me, who really knows, understands the depths of my fear of the dentist. Everyone claims to have some. Mine is probably clinical, like a fear of heights or spiders. This is hard core serious anxiety. My fear has made it so I try to take good care of the teefers. So I can avoid all procedures. The simple cleaning causes panic and stress for the two weeks leading up to it. Just the suction noise will irk me to the point of vomit. Fuck writing about it right now I am chilled and bothered. The drill is all sorts of unheard of. I can't even hear a drill without getting stressed about dentists in general.

Today I saw a periodontist. Gah. It is so awful even saying it. Magoo had to make the appointment for me. In a mind over matter method I drove myself there. Repeating a mantra to myself that it will not be that bad. Good thing I have a ton else going on that I couldn't let myself run away with the horrors. I tell myself, repeatedly on the 20 minute drive to Temple Terrace, that it is just going to be okay. I have to convince my mind that this is manageable. That 'there is nothing to fear but fear itself.' I need to get there mentally. Plus it was just an initial eval, to tell me what I already know. But it is just a quickie to go over the big details so there should be no invasive treatment. Of course the fact that I am en route to a dentist is enough to send me into cardiac arrest.

With that frame of mind I enter the office. I sit anxiously waiting for the terrorist, er doctor. He is a kind middle aged Bull Gator. He talks to me about New Orleans, attorney life and of course my health. I take it all in, probably breathing every third minute or so. This is all pretty routine for any doctor's office, but it still creeps the hell out of me. And nothing can prepare me for what is about to happen though. The entire staff was kind and understanding, and not in a condescending way. They seemed genuine. I found myself complimenting one's engagement ring, something I never usually do. The tech actually patted my arm when she could sense my anxiety. Mind you that came during a routine discussion about flossing. But the whole thing freeeeaks me out. The point is that they were so very soothing and comforting that they almost (I say almost because probably only a bottle of Xanax could really get me there) calmed me. At least they did so to the point that during the initial gum exam, I found the doctors finger in my mouth soothing and slightly erotic. He ran his hand through my gums and around my tongue with a latexed gloved finger. It felt warm and comfortable. I wanted to suck on it. And it was definitely a little turn on. From a 50 some odd year old dentist nonetheless. I have to think that my anxious emotion was transferred to him when the office was so soothing. That I found something new to ask for in the boudior. Bonus. But seriously they rocked and that takes a whole lot for me. I am still not over the fact that I have to go back and undergo a true procedure. But at least now I don't dread my March appointment. Plus they promised me sedatives, which is kick ass because it means I get fingered and good drugs. But no, I still hate the dentist. Hate.
Labels: Everyday Life
link
| posted by anne at 7:07 AM

8 Comments:
Ha, I am glad to hear you were able to get SOMEthing good out of the visit. Good luck at the next one.




---

e.b.,

I so TOTALLY hear you on this one. Dentists are my worse nightmare. HATE!!! Those equipment sounds make my skin crawl.




---

PS- I'm not laughing at your fear, not at all. I totally hear you. Just the visual of the dentist, with his gloved finger in your mouth, and you finding some enjoyment out of it. I think it's great.




---

Okay it was totally funny. Which I think was just an inappropriate response to my nerves.

As an aside, I realize that the title may be misleading. It is not gum disease. Just clarifying.




---

Wow, good for you. :) Despite adoring my dentist for the last twenty five years, I can't say I've ever had a visit like that. I'm going to start wondering why?!




---

I am so glad you went and got through it--and found something good about the whole experience. I'm one of those weirdos who enjoys going to the dentist, mainly because I love how clean my teeth feel afterwards.




---

Gaaaargh. You know what I hate most? The cleanings! Those hygienists can be brutal!

Glad you feel better about it. Everyone needs a good fingering once in a while to calm their nerves. ;)




---

Hmmm, see I never minded the dentist. But I also never wanted to suck his finger. He was old and dyed his hair red.




---
This is one girls tangy sweet take on live and her loves - food, family, friends, photography anything goes, afterall it is her world.
Ask a Question:

More About Me: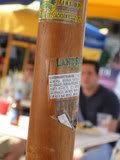 P.S./Photo Sunday
**5.27.07**