March 02, 2007
An E-mail

eb.:Is there anything you want for your birthday?

Rebe: humm- dont know. maybe cooking classes- but i cant commit to a certain time because i have lots of traveling coming up. maybe a new pair of legs for running. the perfect man? what do you have in mind?

eb: I am not going to tell you. I just wanted to know if there was anything my credit card could buy for you - 'cuz I am not sure I have enough credit to buy legs and I don't know if there are perfect men and if there are whether he would accept visa.

Rebe: Alright, how about looser hamstrings. i bet those are cheaper than an entire set of new legs. i actually like my legs, i just wish they were faster. ooh- how about some run faster potion. i bet they sell that on red envelope.

eb: Yeah I saw a two for one sale on hamstrings. which is good b/c you probably need two right?

Rebe: I would say so

To My Dear Sister - Happy 25th Birthday.

Here is to a year of perfect men, better hamstrings and 'run faster potion'. May all your dreams come true.
Labels: Friends/Family
link
| posted by anne at 8:21 AM

8 Comments:
Ha! I had to chuckle at the "run faster potion" possibly sold at red envelope. If anyone would have that, it would be probably be them ;).

Happy Birthday e.b.'s sister!




---

Do you and your sister really have conversations like that?

Can we make that a reality show?




---

Anyone wanna step up and verify?

But take my word they are totally like that - mostly because she is awesome and hysterical.

I cut and pasted directly from our e-mails......




---

Yes, yes we do at times have conversations like that. I guess from the outside perspective they seem kind of bizarre, but to me they are typical of our interactions.




---

Way to go sista!




---

If she knows how to cook and has beautiful, well-functioning legs the perfect man will find her.

Happy Birthday, Rebecca!




---

Haha! I hope someone gets that potion!
Happy B-day, e.b.'s sister!




---

VERY CUTE!




---
This is one girls tangy sweet take on live and her loves - food, family, friends, photography anything goes, afterall it is her world.
Ask a Question:

More About Me: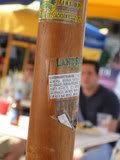 P.S./Photo Sunday
**5.27.07**