April 26, 2007
To celebrate the new house and my 28th year we threw a party. Since not much had been done to the house we figured it was fine to invite over fifty of our closest. We also thought a theme, a keg, and a flip cup table were a good idea. Party goers must dress WASPY - if you don't know what this mean I am not sure where you have been living, but feel free to ask. We felt to counteract this image, of something we are not, there would be beer, pizza, and chips. We called it low brow - because it was just that. We had bagel bites and corn dogs and we served it out of plastic containers. Enough said. I cringed at times laying down money for tacky pink dishes, but it was good fun in the end. What we didn't plan, but was fitting for the occasion, was the green keg beer we purchased. It must've been left over from St. Patty's the month before. It mattered not as we all drank it out of Dixie cups anyway and played many a round of flip cup with it. Maybe we drank too much or maybe this was the point of entertaining, but my pictures stop at the start of the night. I found no time to take shots of our actual guests and the revelry that littered our house for four hours. Or even a picture of the green beer. Oh well you can imagine what a bunch of WASPs with green beer, greasy food, pearl necklaces, top siders and plaid did on a Saturday night in April.


Labels: Everyday Life
link
| posted by anne at 9:20 AM

11 Comments:
Haha! That's great! I love WASPY! :) Happy Belated!

By the way, how is 28? I'm going to need to know sooner than later.




---

You can do it! The only thing I regret about it - is that I am 10 years away from my favorite age and this much closer to the damned 3-0.




---

looks like a blast! ha, love the idea. and yet again, magoo just cracks me up. you looked gorgeous.

18 is your favorite age?




---

Happy Birthday!!

28 is a wonderful year!! Or at least it has been for me.

And when I read your comment above I thought you meant 38 was your favorite age (or at least you think it will be), but I guess 18 makes more sense. Anyway, I love Bagel Bites; wish I'd been there:)




---

Happy Birthday e.b.!!!!




---

Yeah I just had the best carefree time. I don't need to go back but I had a blast. Here's to hoping 28 is that way too.




---

So much fun! It looks like all y'all must have had a blast!

Also, you can be in charge of my party themes/ decorations from hear on out because the WASPY/low brow thing is a great idea!




---

I can't take credit for the theme - I have some a super creative and slightly crazy friend and boyfriend. Together they are ridic.




---

HAPPY BIRTHDAY!!!
I've still got three precious months of being 27. haha.




---

Happy Birthday! And I have to admit, I (like Ally) first read your comment and thought "38 is her favourite age?", but 18 does make a bit more sense. Not that there's anything wrong with 38. Anyway, as a girl who likes parties with themes I have to say I loved yours. And it looks like you had a good time, and really- theme or no theme, isn't that the most important part?




---

Yom HuLeded Sameach!

That party looked good, esp. those chocolate covered stuff.

You looked mighty fine, too, if I may add.

Party on!




---
This is one girls tangy sweet take on live and her loves - food, family, friends, photography anything goes, afterall it is her world.
Ask a Question:

More About Me: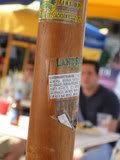 P.S./Photo Sunday
**5.27.07**