April 14, 2007
This Sunday is a typical Sunday - or I would presume for most of America. We spent post-Easter gluttony at the park and reading the paper. Well he read, I pictured. Enjoy your Sunday with scenes from our last Sunday - including the 'bucks and the beach. Click for flickr.
Labels: P.S./Photography Sunday
link
| posted by anne at 8:39 AM

9 Comments:
I like your site very much. Thanks for your interest. Have a good day




---

Love the photos! I wish I took more. I especially love the one of the tree by the beach. Maybe that will be my May resolution- more photo taking. What kind of camera do you use?




---

Your dog is adorable...and it looks so warm there. I am in Maine...it's snowing ;(.




---

Cute puppies! And that porch looking place, is that actually AT the Starbucks? That would be very nice. We need more porches here.




---

b-e-a-utiful!




---

Brandy it is actually just a Cannon point and click.

Jessica - oh we got a "cold" front as well. Though good luck with yours - don't know how you do it

JR - that is the 'bucks - it shares space with another store front too.

Bre - thanks!




---

looks like such a nice day! you only have ginger right...were you petsitting?




---

So pretty! Sounds like a relaxing morning which is how it should be.




---

The bigger lady is Sophie, my parents dog.




---
This is one girls tangy sweet take on live and her loves - food, family, friends, photography anything goes, afterall it is her world.
Ask a Question:

More About Me: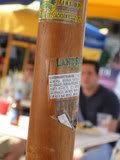 P.S./Photo Sunday
**5.27.07**