April 12, 2007
"When does your ship leave, sailor?"

Heard recently in our house following a single half minute in which I blew my nose in my sleeve emitting a ginormous bugger and mound of snot onto my stomach and clothing and then let out a fart.
Labels: Fart Queen Stories
link
| posted by anne at 8:55 PM

2 Comments:
JustRun said:

Boogers are most definitely more gross than farts. Then again, I'm the girl that counts how many steps a fart lasts during a run. My record? 15.




---

Paige Jennifer said:

I can't believe he didn't just tackle you and take you right then and there. I mean seriously - that just SCREAMS sexy.




---
This is one girls tangy sweet take on live and her loves - food, family, friends, photography anything goes, afterall it is her world.
Ask a Question:

More About Me: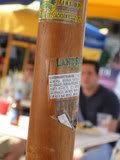 P.S./Photo Sunday
**5.27.07**