September 26, 2006
The only thing I want to do right now involves a long sleeve extra thin cotton t-shirt from the Gap, soft sleep pants from Anthropologie, two extra cool pillows, my down comforter and my bubee's hand knit blanket, on my bed. My sick-y attire. I want to alternate between sleep, reading Kitchen Confidential, Elle Magazine and tv watching, last nights missed episode of Studio 60. I was sleeping then too. I am sick, but nothing that a good 12 hours of rest won't cure. My father believes 3 fingers of scotch and good snooze under 5 blankets will cure anything. I tend to agree, maybe less the scotch, I think I would vomit all over my white Ralph Lauren bedding. My head feels like a pressure cooker, my body feels like a school bus ran over it and the snot is never ending.
Labels: Everyday Life
link
| posted by anne at 11:01 AM

2 Comments:
Buffy said:

Your father sounds like a wise man.




---

eb said:

That is what I always say and he seems to think. That is until I disagree with him!




---
This is one girls tangy sweet take on live and her loves - food, family, friends, photography anything goes, afterall it is her world.
Ask a Question:

More About Me: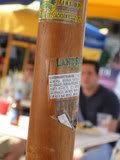 P.S./Photo Sunday
**5.27.07**