October 31, 2006
As of tomorrow I will be a participant in the "blog-or-die" campaign. Me and one million other bloggers. Hey, its fun to be part of an invisible and large community and have an extra excuse/incentive to keep it up.....every day. Yup, every freaking day. That is the goal of the contest, one has to post every day in the month of November, otherwise you ain't eligible for 'dem prizes. Yes, to that too, there are prizes. Check it out here: http://www.fussy.org/nablopomo.html
Labels: Everyday Life, Practice
link
| posted by anne at 10:33 AM

3 Comments:
Lynn said:

Well, I don't think the prizes are that great, but I guess its another reason to post every day--which I have been terrible about doing!




---

e.b. said:

Exactly...I think knowing others are doing it too is kind of fun




---

JustRun said:

Cool, I thought about this but I'm traveling in November and I won't be able to post a couple days. Have fun with it!




---
This is one girls tangy sweet take on live and her loves - food, family, friends, photography anything goes, afterall it is her world.
Ask a Question:

More About Me: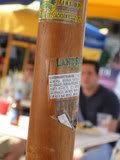 P.S./Photo Sunday
**5.27.07**