November 02, 2006
This morning, I took the deposition of a despondent man. He was injured and faced the possibility of amputation. He rolled to the elevator escorted by his wife, as I traversed the stairs in my heels. Thank god. For my strong legs that carried me down two flights of stairs. That allow me to don four inch black patent Charles David pumps. That let me do 90 minutes of yoga (though at times they did not want to cooperate). That let me take Ginger out for her morning walk. That let me reach over and straddle Magoo before I left for work. That let me stroll and enjoy viewing the Halloween decorations and trick-or-treaters. That let me powerwalk four miles on the treadmill. That let me delicately brush a toe against his when I got into bed. That let me shop, drive and ambulate freely. How thankful, grateful and complacent I am about these gifts. I cringe at the cellulite forming at my upper thighs (good god it seems to increase tenfold daily) and I constantly bemoan having to keep up with the shaving. But these babies carry me where ever I need to go. They are on call 24/7 and do a damn good job. They are strong, powerful, and have to be considered my best asset. How blessed and lucky to be in good health.
Labels: Perspective
link
| posted by anne at 4:28 PM

2 Comments:
JustRun said:

Amen to that. What a good reminder.




---

e.b. said:

In college I had a friend who was a dancer and was always openly thankful for her legs. I just flashed to that when I was climbing those stairs.




---
This is one girls tangy sweet take on live and her loves - food, family, friends, photography anything goes, afterall it is her world.
Ask a Question:

More About Me: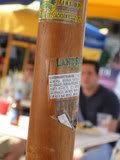 P.S./Photo Sunday
**5.27.07**