November 02, 2006
A ticker-tape bank type sign, outside a McDonalds, in New Port Richey Florida. No worries, if you don't know where that is. I barely know myself.

The sign advertised two things; 1) they have Wi-Fi and 2) it is currently 83 degrees.

Why does the McDonalds need such a sign? Do hamburgers go on sale? Is the big yellow M no longer sufficient to indicate that a McDonalds is there?

Why does a McDonalds need Wi-Fi at all?

Wi-Fi and big bank signs in New Port Richey?

Why is it 83 degrees at 3 pm on November 1?

Ugh, it is so flippin' hot out......
Labels: Everyday Life
link
| posted by anne at 1:46 PM

0 Comments:
This is one girls tangy sweet take on live and her loves - food, family, friends, photography anything goes, afterall it is her world.
Ask a Question:

More About Me: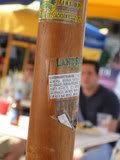 P.S./Photo Sunday
**5.27.07**