November 23, 2006
Never go to the grocery store the day, or two, before Thanksgiving. You are asking for it. At least not without the proper equipment and preparations. Maybe weapons and makeup. There are camera crews there. People push. They steal. Even elderly innocent looking old men. You will be helplessly picking out peppers for fajita night. Good god I love fajitas. You turn back to place your produce in your cart only to see a man in a blue jacket and cap walk by slowly. He picks up your cart along the way and just keeps pushing it. One quick movement, no pauses. Does not look back. He continues toward the juices. What the???? Where were the camera crews when you needed them? Your wonderful boyfriend sees your dismay, as you raise your hands and peppers into the air in a quizzical fashion. You say rather loudly, "that man stole my cart". A few heads turn, sort of laugh uncomfortably, but not the capped man. Boyfriend moves over to the juices, while the man is deciding between Tropicana and Minute Maid, and he swipes the cart right back. Boyfriend then rightfully brings your cart over to deposit the peppers and onion. Seconds later you look up and see the blue jacketed man performing the same move on another poor unsuspecting produce shopper. Pushing along innocently. Your boyfriend states he is going to look for chicken. With those parting words you send him off and warn, "hold onto that cart with your life".
Labels: Everyday Life
link
| posted by anne at 8:05 AM

2 Comments:
Jessi said:

Lmao! That actually made me chuckle out loud a bit! I can't say I've ever had my cart stolen, but I can definitely picture it happening now.




---

e.b. said:

It was quite bizarre.




---
This is one girls tangy sweet take on live and her loves - food, family, friends, photography anything goes, afterall it is her world.
Ask a Question:

More About Me: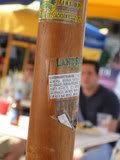 P.S./Photo Sunday
**5.27.07**