March 12, 2007
Things I want to do:


1. Plant a garden/buy plants.
2. Enroll in the 90 day writers workshop
class.
3. Make a lasagna.
4. Spend a weekend at the beach. Even just one
night.
5. Print out and frame my photographs.
Labels: Listing
link
| posted by anne at 10:41 AM

9 Comments:
Have fun accomplishing your "wants" this Spring!
I like the layout of this post by the way:)




---

We should have an area blogger plant swap!




---

I need to try making a list of just five things--then perhaps I'd accomplish something! Happy Monday!




---

I'm not even surprised that I have a very similar list. :) Very nice.




---

This will be my first foray into the planting/gardening. I have managed to keep some house plants alive - so I am braving a bigger step.

JR: I had you pegged for the beach, no question.




---

To finish my incomplete thought - that is why I am going to need help in the gardening area.

5 is for now. And these are 5 I have not really done before, these don't include the need-to-do's!




---

Great list! Looking forward to hearing as you check off the successes.




---

I have a photo problem. It's too easy to take photos, harder to edit/enhance the photos, print the photos, etc etc etc. With digital cameras, it's too easy to take 1000 pics and do nothing with them... with old film cameras, you have to get 'em developed and printed to see what gems you captured.

A "to do" list is a good idea, it will (hopefully) hold you more accountable to getting those photos printed!




---

have you signed up to do the "100 things in 1001 days?" my sissie and i are working on a list. its harder than it seems!




---
This is one girls tangy sweet take on live and her loves - food, family, friends, photography anything goes, afterall it is her world.
Ask a Question:

More About Me: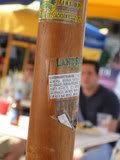 P.S./Photo Sunday
**5.27.07**