March 28, 2007
I sit at my desk crossed legged, even in a skirt, even with no skivvies on. I don't care. I need to be comfortable if I am going to be strapped to the chair for eight hours. Ew gross, sure. But it is behind a large oak desk, so I am flashing nobody. I just let it hang out. Isn't it most important that I am comfortable. Or are appearances everything? Do I really need to be a la-di-da lady with my door closed? Because I have an esquire behind my name and a plaque on the wall, does that mean I have to maintain certain pretenses? Can't I just be me?

We do our best to find ourselves. Our true selves. To just be me. But what society tells us to do gets in the way more often than not. It is impossible to filter. All our decisions and impressions come from outside sources. I know there is psychology on this. To the point you will disregard your whims. You don't even know you are doing it, a lot of the time. Gut instinct is dismissed when others voices are planted. They tell you to go ahead do it, don't feel that way. We can convince ourselves of anything.

But we have to make sure those conversations don't detour from the original purpose, the one where you need to know what is good for you. The chorus of opinions offer advice, that may talk pretty, but they cannot over power your inner voice. Not to the point where you can no longer understand where you lay. You came to the table with an idea and a notion. But now the multiple voices have drowned out those thoughts. It has become a jumbled mash of mixed up ideas. Almost impossible to tell what yours were and doubly impossible to determine if they were "right". But we all know there is no right. Not when you are trying to be you. Because it is just you. There is no wrong, so don't go there either.

Go where you want. Do what you want. Offer advice and take it, but only if you can handle it. Only if it is meant to be processed and refined to match your ideas. You have opinions and beliefs. It is you after all. Go with those. You are the only one who is going to know 'em, to truly without pause know them. You are going to be the one who has to live with 'em, at the end of the day it is your head that has to hit the pillow. Make it so you enjoy it. Because in the end it is just about being you. Sitting comfortably crossed leg at your desk wondering if your secretary knows your ho hah is hanging out.
Labels: Breathing
link
| posted by anne at 7:17 AM

15 Comments:
Hee. From the timing, I'd say I was commenting on your last post while you were commenting on mine! I've got on panties, tho. Of course do whatever makes you feel comfy! I've just never been one to be comfy commando ;)




---

I'm all about the comfort....but for me comfort is wearing as many clothes possible lol. Although, I go pantyless one time just to make my man all hot and bothered (we work together)...it was pretty HAWT lol




---

Let the Va-jay-jay be free!!!




---

you've got a good theme going on the past couple of posts with women, friendship, and self empowerment. feeling good about yourself. damn straight.




---

It is totally a personal thing - but at times it just feels right!

Brookem - thanks for the compliment. I have actually felt the opposite so it is interesting to see that come through in the posts.




---

On a lighter note - someone in my office building apparently reads this and was inspired - as there was a black lace thong in the sink in the bathroom. I guess she no longer wanted to wear it?!?!?




---

I've gotta be me, too! And sometimes, me = commando!




---

great post! as long as your are comfortable!! pantyless is freedom!
**********
re: posh
her skin was pulled too tight from surgery!
besides, she has nothing to smile about.... GORGEOUS HUSBAND AND A GAZILLION $$$!




---

Silly!




---

If it makes you happy I'm all for it! Go you!




---

I love that you said "ho hah". That's great! I've never been one to go commando, much to the dismay of my hubby ;)




---

I sit the same way. It could have been bad in the one office where we had these postmodern desks with no front panel. But that office was very very cold, so whenever I was stuck sitting there, I was wrapped from head to toe in an oversized pashmina -- thereby blocking anyone's view of anything salacious.

If anyone ever comments on how unladylike that is, it is quite possible that my response will be to pick up one of my 4" heels from where they lie next to me, and stab them with it.




---

You ladies are hysterical.

I probably use ho-hah more than I should so it had to make its way into the blog eventually.

Dara I have never met you - but I can see you and that pump and I will be there cheering.




---

If I had the power I would ban both underwear and socks from my day to day life. Not bras though, strangely enough I find them pretty.




---

what a great post!




---
This is one girls tangy sweet take on live and her loves - food, family, friends, photography anything goes, afterall it is her world.
Ask a Question:

More About Me: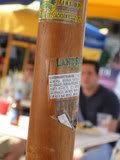 P.S./Photo Sunday
**5.27.07**