May 06, 2007
Magoo drives and spends time "playing" the steering wheel. He is hard of hearing and the TV needs to be loud and questions often need to be repeated. All this because he grew up playing the drums. He was a member of the high school marching band and spent many nights practicing in bands with his friends and brother. He is proud of this and says it made him the fun loving personal guy he is today. For that I am very thankful. He has a love and appreciation of music, often trying to help me with rhythms, but I suck and don't hear them. I am not so sure I am thankful that the expensive drum set he owned as a teenager now lives in our house. We have parts of it and the rest will follow eventually. He continues to claim he will be playing it more regularly. While that remains to be seen, I have witnessed him sport the cylinders back pack like a turtle and tap the table as if it were drums. So when this gets going who knows what I have in store for myself or my neighbors. I think I may need to invest in some really excellent Bose headphones, a padded room, or some drum lessons for myself. Because if you can't beat 'em join 'em.
Labels: P.S./Photography Sunday
link
| posted by anne at 2:06 AM

8 Comments:
I can't say that it's a bad thing to have a guy with good rhythm.

I'm also trying really hard not to be raunchy here.

Love the photo! :)




---

Why try not to?




---

My thoughts totally went the same way as Bre's. What can I say?

Take up electric guitar and accompany him. You don't need as much rhythm, then. :) And, if all else fails, something tells me you play an excellent air guitar!




---

No problem if he keeps the drums as long as you have the sticks.




---

something about you and magoo playing the drums together is really cute to me.
happy monday lady!




---

Start a punk band...I will totally become your first groupie!




---

So So Bobby Dall




---

Oh he will totally love that analogy.




---
This is one girls tangy sweet take on live and her loves - food, family, friends, photography anything goes, afterall it is her world.
Ask a Question:

More About Me: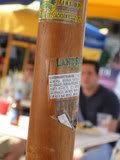 P.S./Photo Sunday
**5.27.07**