May 16, 2007
You know you live in Florida when driving on 75 you are stuck behind a truck filled with oranges and over to your left, in that lane, is a person doing 40 with their left blinker on. That is so Florida.

You also know you live in Florida when you get to be at the beach by 9 am on a Sunday. Magoo and I always said we were going to go but would then find something else to do. The trick really is just to get up and go - not stopping to do anything else. This is also important because by the time we left at noon the place was packed. Lines to get in, lines to park and lines to find a comfy spot in the sand. Oh and of course you know you live in Florida when it is also 97 degrees at noon. Yet another reason to beach it early early on.

We had a great time napping, reading, drinking our smuggled Jack 'n Cokes and walking the shore. I say smuggled because I am not so sure drinking out in the open on the beach is all that legal. Of course we say we are going to do it again and I think we must. But we also agreed that we are going to buy some beach chairs and even a cooler. You know do it all right and stuff that way you really know you live in Florida.


Labels: Everyday Life
link
| posted by anne at 8:39 PM

14 Comments:
If I wasn't certain that I'd turn the color of a lobster, I'd be in Florida tomorrow. Honestly.




---

i love the ladies holding hands:)




---

You absolutely MUST do it again. You owe it to all of us land-locked folk, for one thing.




---

haha. and you know you live in DC when you see women in Gucci suits and flipflops! ;-)

what beautiful photos!




---

Jeeealloous! Can I just say the fact that you can file a 'day at the beach' under 'everyday life' makes me not red like a lobster but green with envy? Yesterday it was 20C here and we were all doing the happy dance. Oh, you are a lucky one!




---

Everyday life in Florida does not look bad at all. That's a lot coming from someone like me, who lives in the desert and loves it.




---

Yeah, it's a tough life we got down here.




---

That first paragraph about the orange truck and the slow old lady with her blinker on? Classic. Like laugh aloud classic.




---

I absolutely LOVE the picture of the nets. That yellow really pops.

I was looking at the rest of your photos..who's reading Soul of a Chef? good book.




---

Bre: that is what they made sunscreen for!

Brookem: aren't they the cutest? They walked into the Gulf like that.

JR: good point.

Ryane: are they at least Gucci flip-flops?

Brandy: I never thought about it like that - but the beach is sort of an every(weekend)day thing.

Runlia: if that were my life everyday - you are right it would not be that bad!

<3: isn't it though? isn't it?

PJ: I was waiting for someone to comment on that. Now that is Florida.

Pam: I am in the process of finishing it - it is excellent.




---

I'm due to visit my beloved grandmother in florida...but oy! Not sure I can take it in summer!!




---

e.b.:no. N-O!! They aren't Gucci flip flops...more likely, dollar store specials that at one time were white, and now...are just...not any color really. OH the dreaded summer flip-flop!! =-)




---

oh e.b., so young and dumb...you dont go to the beach in the morning so your lovely skin can burn and age prematurely.

please go in the late afternoon, not before 4 but preferably 5 or after in the summer. you get the sunset, beautiful horizon, fewer people who all go home just when they shd be arriving. then, voila! beers at frenchy's. ahhhh.




---

I love seeing the pictures of your beach. Looks a lot like ours and it's so beautiful.




---
This is one girls tangy sweet take on live and her loves - food, family, friends, photography anything goes, afterall it is her world.
Ask a Question:

More About Me: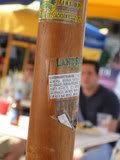 P.S./Photo Sunday
**5.27.07**