October 20, 2006
We spent Thanksgiving last year in Vermont, as a family. Just the four of us. Four days in the snow in a 1200 sq foot condo. Half of us don't ski. I have not been in the snow in years. It is lovely and quaint. But the term cabin fever was coined for a reason. There is only so much scrabble you can play. Plus it took all of us several hours to travel there from Florida and North Carolina, where my sister was in grad school. I think that explains why the following conversation went down, on Saturday morning.

"How about, when you come home for Christmas we go shopping to buy you clothes to interview in and some to wear to work? I think something casual will do, since you probably don't need a formal black suit."
"Why wouldn't I need one? Is my job not going to be as important as Annie's? She got a black suit"
"No, I just thought you wouldn't want to wear one or that it was necessary for the work environment you were entering into."
"Oh, so you are saying I am not as smart because I am not a laaaaaawyer?"

Yes, that is so clearly what she was saying. It is obvious to us all, that her unwillingness to buy you a plain black boring suit means you are an idiot. Only idiot gets other types of work wear and less formal interview clothes. Idiots also graduate number two in their high school class, magna cum laude from an Ivy League school, attend graduate school and apply for jobs that involve words like hydrogeomorphology. Idiots are also published several times over.

Let's not forget who the real idiots are - laaaaaaaaaaawyers. We are the stupid ones. We chose to be laaaaaaaaaaaawyers.
Labels: Friends/Family, J.O.B.
link
| posted by anne at 10:53 AM

0 Comments:
This is one girls tangy sweet take on live and her loves - food, family, friends, photography anything goes, afterall it is her world.
Ask a Question:

More About Me: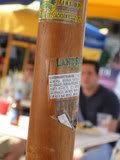 P.S./Photo Sunday
**5.27.07**