November 07, 2006
It is one of those days, the kind where you eat all three meals sitting at your desk. That's gotta be healthy, right? Lets just say that I am still sitting at my desk....

My electronic voting machine did not work properly. The right side of the panel was impossible to access. My mom's voting machine did not work properly either. She touched her choice and it registered the opposite selection. Nice. We love voting in Hillsborough County. We have had these machines for years now.... I don't expect results for several more hours, not just here, but nationwide. Let's not even get into Ohio.

Ginger decided to use my carpet as a dumping ground. I have always said that she really hates when Tom goes out of town, I guess the evidence is clear. Well not so much clear, as stinky.
Labels: Everyday Life
link
| posted by anne at 9:07 PM

0 Comments:
This is one girls tangy sweet take on live and her loves - food, family, friends, photography anything goes, afterall it is her world.
Ask a Question:

More About Me: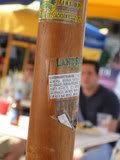 P.S./Photo Sunday
**5.27.07**