March 17, 2007
Yeah so today is supposed to be about green and beer or whatever the Irish enjoy. And right now I am six or seven deep though mine is Canadian whiskey and the green is for MSU. No I have no lost it, I am a good sport. For that sport. We have a TV. As in a single one and it is that time of the year. So long as the beverages flow and I get access to the internet, I am good with the basketball. Well as good as it is going to be. Since I doubt two devout Gators would let me watch Sex and the City on a Saturday evening.

As for the afternoon. It again was gloooooorious. Sorry to the Northerners suffering through the March snow. But we got it good. Good as in the 60's with crystal blue skies. But for now you gotta take my word for it. Or maybe I don't want to make you too too jealous. Or it is just a lack of technnology let's be honest. More pictures and details to follow, promise. Not to mention that it will be equally as lovely tomorrow and there are more outdoor activities - involving sunshine, friends, and hops. Remember we live in a world of spring training.
Labels: Everyday Life
link
| posted by anne at 7:12 PM

5 Comments:
OMG... I totally forgot it was St. Patrick's Day! Oh well, a missed blogging opportunity.

I landed here following your link from my recent MyBlogLog readers. I love your header and your tagline. Fun blog! I'll be back. :-)




---

The weather is glorious here too--64 degrees, sunny, and with a slight breeze. I'm glad you're enjoying the weekend too!




---

you lucky people with the warm weather! enough already!
:)




---

Weirdgrrl - thanks for stopping by!

brookem - Seriously please come back in July/August when I BITCHING!




---

LA LA LA I can't hear you describing nice weather! St. Patrick's day was cold and icy everywhere! LA LA LA!

:)




---
This is one girls tangy sweet take on live and her loves - food, family, friends, photography anything goes, afterall it is her world.
Ask a Question:

More About Me: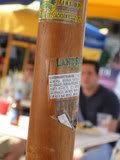 P.S./Photo Sunday
**5.27.07**