March 15, 2007
I have had the opportunity to leave work early these past few days. Which means 5 o'clock. Because of the time change as well, it has been glorious at that hour. Look at that blue sky. So Ginger and I have had the chance to take long walks around the neighborhood. Keep in mind in busier winter-y times it is dark and I am tired. But she gets to revel in the glory of my current status, as her tongue hangs out of her mouth by the time we get back home. Likely from all the energy exerted in sniffing out every piece of garbage in the 3 mile radius. Regardless, I have noticed the lovely flowers that have bloomed as a result of our Spring. I also like to think that, as a result of my current position, I am now in a able to stop and smell the flowers....

This one is actually growing on my back porch. It "bloomed" on it's own accord. It is actually an aloe plant that sprouted this flower.



I found these across the street, next to a parking lot and office building. I like to think Ginger helped these grow over the past few months.



The hibiscus are quite common in Florida, but still look exotic and lovely. The orange bloom in multiple layers.



Whereas the hot pink are vibrant and big.



And the lighter pink are softer and delicate. To be honest, I cannot verify if these are true hibiscus. But they sure are pretty.



I am not sure what these yellow beauties are either. They were one of only few blooms on a desolate tree. Quite lovely. I was able to snap them before Ginger's nose dragged me away for better scents - hers were not of the floral variety though.



Our neighbors down the street had these growing next to their fence. Ginger and I quietly trampled up to the side of their house to snap these.


These had a Christmas time feel to them, I think because of the colors. They were in a bed low to the ground. I was able to get that close to them as Ginger also used them for a "break", let's just say.



After all our scratching and sniffing, well mostly hers, she returns home happy and with a hanging tongue. I got my pictures, she got a cookie.



Now it is your turn to enjoy the great out doors and take the time to stop and smell the flowers.
Labels: Everyday Life
link
| posted by anne at 10:38 AM

10 Comments:
Who knew we lived near such beauty!

Great pictures boo boo.




---

brookem said:

I love the pictures! What kind of camera do you have? They are beautiful flowers. In writing class the other night, we were to write "if we were a flower, what would we be?"... and I had nothing. Absolutely nothing. I don't know anything about flowers. So I began to write about the big, bright, fake ones I have on my desk in my office, and then I got discouraged because I'm someone who doesn't know about flowers.
So thank you for some education.




---

Bre said:

So delightful! I'm so very ready for spring, and those pictures made me quite happy! :)




---

Rebecca said:

Makes me want to be there...




---

e.b. said:

I know right - the flowers make our neighborhood look mighty purdy!

Brookem - I actually just used a Canon point and shoot digital camera. I did mess around with the shots, using a macro "lens" at times.

Bre - Spring is here and I wish it upon you soon. May your flowers bloom!




---

Ally said:

Gorgeous! These longer evenings have been fantastic; I'm glad you're enjoying them.




---

Pam said:

Those are gorgeous photos! Makes me want to go to the beach!




---

Paige Jennifer said:

Um, that was just the pick me up I needed after glacing out my office window at an ice storm (sigh).




---

e.b. said:

Oh Ally I have been - trust me. More news to come.

Pam - what is funny is we are nowhere near the beach! But Florida is Florida.

PJ - I do what I can. Though as I sit here rain is pounding my window. Which is still better than snow and our temps are coming in at the 70 degree mark.

Please y'all remind me of my smugness in July.




---

Cute Jewess said:

Oh, I'm experiencing flower and dog envy!

I'll have to make it to the Brooklyn Botanic Gardens once spring hits.




---
This is one girls tangy sweet take on live and her loves - food, family, friends, photography anything goes, afterall it is her world.
Ask a Question:

More About Me: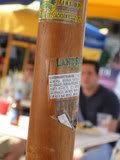 P.S./Photo Sunday
**5.27.07**