March 22, 2007
I wrote this and minutes later my doorbell chimed. I peaked out and no one was there. I opened anyway and there were tulips. Sent from a dear true old friend. One who I met at the same time as the other, but whom I actually became and maintained a friendhisp with. By choice and not by circumstance. Who I have remained such even under circumstances. One of which passed not too long ago and that we were not too removed from dealing with. Though she still cared enough to send flowers. A quality we should all have in our friends and ourselves for that matter. But one I found he did not possess.

The bigger point is that I need to keep that in perspective. I do it all the time, not just with her. In a lot of my life and relationships. Forgetting the larger picture and living in the details. The moment of it all should not erase what has been done in the past, especially when it is voluminous. One time should not cost us the total love. We all fail. We all make mistakes. Some are unintentional. Which is equally as wrong and very difficult to swallow. But so long as those times happen with infrequency we can continue down the rose garden of friendship. It is when the wrongs out number the rights or they are just so wrong that we put the friendship down. At least we should. But that was not the case here. I just needed a drill to my mouth and a mystery doorman to remind me of it.
Labels: Friends/Family, Perspective
link
| posted by anne at 6:20 AM

6 Comments:
How very well said. It is a challenge for me, too, forgiving debts of the past (myself and other's) in order to live in now.




---

I enjoyed this so much.
And this: "The moment of it all should not erase what has been done in the past, especially when it is voluminous. One time should not cost us the total love." made me think- that's so very true for when one makes a mistake in a friendship- to remind us to not forget all the good. But so very true too, for the instance or circumstance when one does a really good, nice thing, that should not let us forget a lot of bad and hurt, that could also be very voluminous.
I don't know if that makes any sense.




---

Very well written. I had just finished a book yesterday where many of the characters had to deal with forgiveness. I, too, find it a challenge to forgive and like you said, we all make mistakes. A character in the book basically commented "you have to forgive in order to receive forgiveness." Sort of..you get what you give mentality. I still find it hard though but I'm working on it. Life is too short.




---

I get so caught up in the moment and forget to remember the past. Brookem- you are so right, it does work both ways.




---

Have I ever told you I am in awe of your skills? You are such an eloquent writer and this post really did hit home. For me, it's wondering how much of what people once had in common has to be lost for me to throw up my hands and move on.




---

MB- Thank you.




---
This is one girls tangy sweet take on live and her loves - food, family, friends, photography anything goes, afterall it is her world.
Ask a Question:

More About Me: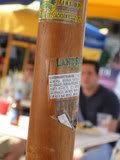 P.S./Photo Sunday
**5.27.07**