March 19, 2007
As promised, the pictures. Also because I told Kevin this was blog worthy. So really it is mostly for posterity purposes, as I don't want to continue to rub in the blue skies. In a few short hours I am heading in for gum surgery. It is actually a graft where they take some from the bottom and move it to the top. A cut and paste job, if you will. So let's call it even. I have the weather, but I am bed bound and going to the dreaded dentist. Again. Plus my eating will be severely impaired and that is a huge concern of mine.



Saturday was billed as Gasparilla Part Two. Which mostly means sitting around and drinking as there was no parade. Though I am willing to guess as many drunks. And who really needs an excuse to drink? As if the whole St. Patty's thing is not an excuse in and of itself. Especially when the weather was just so.....remember we are even. No grumbling. We had a tremendous afternoon lazying around, eating, watching what else but basketball, playing with the dogs and celebrating birthdays. And did I mention drinking?


Sunday was the Tampa Yankees. Our spring training team. We managed to make it through five innings and a grand slam, before the real spring team played. There were as many Yankee's jerseys in that stadium as Gators. And they all needed to exit by 2:30 for NCAA action. Looks like it is time for the Sweet Sixteen.

Just send me wishes that mine will be sweet too. And remember we are even.
Labels: Everyday Life
link
| posted by anne at 6:06 AM

2 Comments:
brookem said:

Good luck today! I'll be thinking of you. Have Magoo get some frappes, icecream, etc. lined up for you!




---

e.b. said:

Thank you, you are too sweet.

I don't even know what I am going to be able to manage. Ick.




---
This is one girls tangy sweet take on live and her loves - food, family, friends, photography anything goes, afterall it is her world.
Ask a Question:

More About Me: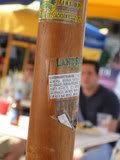 P.S./Photo Sunday
**5.27.07**