March 19, 2007
I am without a doubt nervous. It creeps up on me and my hands shake, I have to catch my breath. The true literal meaning of it where it is taken from me and I have to dig deep to find it. Then I tell myself some calming thoughts. None of which are true, but they suffice to get me straight again. And they will have to do to get me into that chair. In the next several hours I will become more and more of a wreck. At times even holding my breath without knowing. Biting down hard and grinding. Which is what got me here in the first place. I decide to read about others reactions and procedures on blogs and in chat rooms. Then I decide it is too horrifying and gruesome. Maybe I would rather not know. Though in my calming exercises I tell myself that my anxiety comes from the unknown so I try to play out what they will do. Which is how I got online in the first place.

I also tell myself it is only thirty minutes and I try to capture thirty minutes of time to see how quickly they pass. But we all know when living through a personal hell those thirty minutes will last a life time. So I eat. Fearsome because I won't be able to later and I can't stand the thought of being uncomfortable AND hungry. But also to soothe my nerves. It keeps my busy, it makes me happy and it fills my belly, which feels empty and scared. I like the feeling of the hard apple against my gums, knowing I won't get that for days. Or longer, I just don't know. And I don't really want to.

The best thing I can tell myself is that I will get through it. That it will pass and it truly will be over in a matter of time. That at least I am getting it taken care of and I will no longer have to worry about it. But again, that does not a whole lot to ease the worries. And the closer the hour gets, the higher the anxiety level becomes.

I will tag this breathing, even though I really am not.
Labels: Breathing
link
| posted by anne at 9:05 AM

7 Comments:
Here's wishing you many juicy apples to come! By now you may even be all done the procedure. I'm thinking of you and know you'll be just fine!




---

You will absolutely get through it and I wish you many, many reassuring hugs. Thinking about you!! :)

(Also, could you post this to Indie Bloggers? I love your descriptive prose.)




---

Oh dear. Hope everything's over and fine and good!




---

Yikes! I hope everything turned out okay.




---

Thanks y'all - I am doing well enough. I have trouble talking and eating - which are what I live for.




---

I hope all is well!




---

Hope you're doing better! And trust me, I know how you feel -- dental surgery stinks.




---
This is one girls tangy sweet take on live and her loves - food, family, friends, photography anything goes, afterall it is her world.
Ask a Question:

More About Me: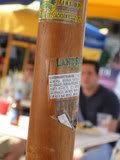 P.S./Photo Sunday
**5.27.07**